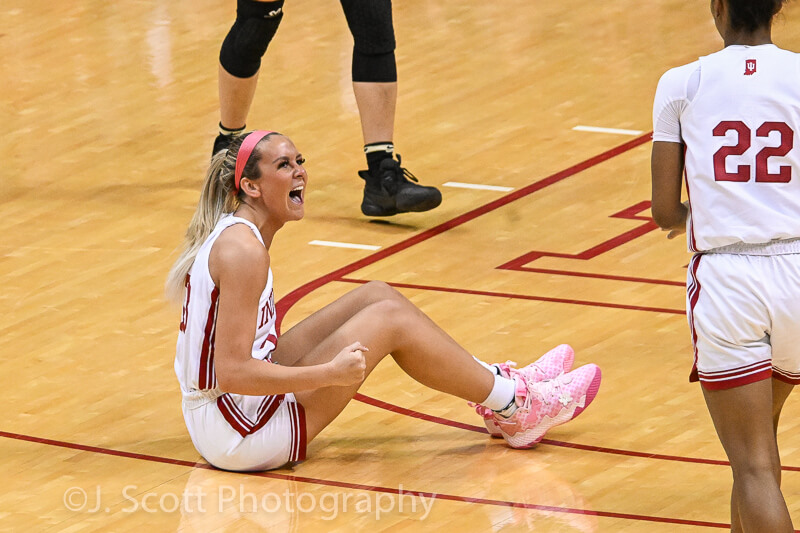 When Teri Moren arrived at Indiana nine years ago, she had a vision. She saw a place where men's and women's basketball had equal facilities and opportunities, where Indiana basketball didn't just mean men's basketball and where Simon Skjodt Assembly Hall had banners for both teams who proudly call it home.
She's two-thirds of the way there. All that's left is the banner.
Indiana basketball is thriving under Moren, setting records for attendance and television viewership, earning a No. 1 seed in the NCAA tournament for the first time in program history and becoming a legitimate national title contender.
In the eyes of the entire nation, the Hoosiers are a force to be reckoned with. They are spearheaded by All-American and Naismith Trophy contender Mackenzie Holmes. Grace Berger is their silent assassin from the midrange. Moren herself was named Big Ten coach of the year, and Holmes the Big Ten defensive player of the year.
One could go down the entire roster, look through the statistics and find something tangible about each Indiana player that would prove why the team is having the sort of success it has had.
But the intangibles seem to be responsible for Indiana's historic season.
"The reason why we're here is because of what we've been able to do that nobody sees," Moren said at media availability Friday in Bloomington. "And that's the work."
It's the determination, the motivation, the teamwork and the willingness to do whatever it takes to win that has set the Hoosiers apart from past teams and competitors. Moren says they know the recipe for success, and chemistry is one of the key ingredients.
Whether it comes in the form of Holmes and Berger playing buddy ball in the post, Yarden Garzon dishing out a cross-court pass or Kiandra Browne leading the bench in encouraging everyone on and off the court, there's no question Indiana is a complete unit.
Indiana's selflessness manifests itself in the team's assist numbers; "sharing the sugar" is a staple of Moren's team. But it's also so much more than that. When Berger was injured in the middle of the season, Sydney Parrish stepped into a starting role. She remained there when Berger returned, and Sara Scalia became Indiana's "sixth man."
But that didn't mean she stopped playing like a starter. Scalia put up season-highs and game-winning shots no matter how many minutes she played because she wanted to do whatever she could to help her team…
Click Here to Read the Full Original Article at Inside the Hall | Indiana Hoosiers Basketball News, Recruiting and Analysis…