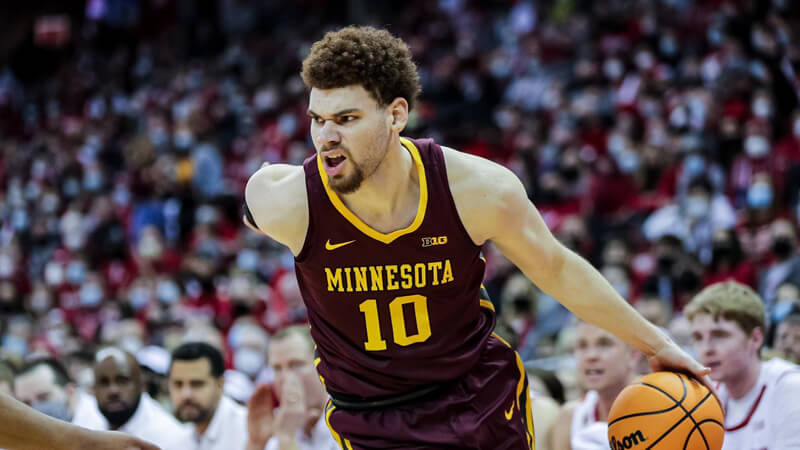 Indiana will try for its fourth-straight win when it travels to Minnesota on Wednesday night. The Golden Gophers are 7-11 overall and 1-7 in Big Ten play.
Wednesday's game will tip at 9 p.m. ET on BTN:
After a 10-1 start last season, Minnesota has struggled to find much success under Ben Johnson. The Gophers were often competitive in Johnson's first season but finished 13-17 overall and 4-16 in Big Ten play. Still, Minnesota finished the season ranked just outside the top 100 in KenPom (109th) and had five wins over top 100 KenPom teams.
Season two for Johnson in Minneapolis has represented a step back thus far. The Gophers are 0-4 in Big Ten home games, have just one victory over a top 100 KenPom team and are the worst team in the conference as league play nears the midway point.
But in the Big Ten, anything can happen, so Indiana will have to keep up the level of play it has exhibited over the last three games to avoid a costly loss at Williams Arena.
MEET THE GOLDEN GOPHERS
With the graduation of Payton Willis, Morehead State transfer Ta'Lon Cooper is now the point guard for the Gophers. Minnesota runs a lot of pick-and-roll action in the halfcourt with Cooper as the main facilitator. The 6-foot-4 guard leads the Gophers in assists and minutes per game.
Cooper is third on the team in scoring at 10.8 points per game and shoots better on 3s (49 percent) than he does 2s (43.9 percent). He has one of the top 25 assist rates in the country at 34.1 percent.
Taurus Samuels, a 6-foot-1 transfer from Dartmouth, starts at the two and is a low-usage, low-efficiency offensive player. Samuels averages only 2.5 points in 19.5 minutes per game and has attempted 54 shots in 18 games. Samuels is 6-for-18 on 3s in Big Ten play.
Freshman Joshua Ola-Joseph starts at the four with Jamison Battle at the three. Ola-Joseph is a 6-foot-7 wing who is a solid athlete and a capable finisher. He's making 58.4 percent of his 2s this season. His 7.2 points per game are tied for fourth on the team.
Battle has been banged up this season, missing the first four games of the season with a foot injury. He then injured his back against Illinois on Jan. 16, but hasn't missed any games as he plays through the setback. In 14 games, Battle is averaging 12.1 points, but is shooting just 34.6 percent from the field. His effective field goal percentage is down from 54.1 percent last season to 42.7 this season.
North Carolina transfer Dawson Garcia starts at the five and…
Click Here to Read the Full Original Article at Inside the Hall | Indiana Hoosiers Basketball News, Recruiting and Analysis…