Week 2 in the Big Ten didn't quite go as planned. Contenders in the East division, Ohio State, Michigan State, Michigan, and Penn State, rolled, but the West division didn't fair so well aside from Minnesota. So much so that they weren't just close games, but upsets that have reset expectations in a lot of places.
Each week, we observe and take stock of what happened in the conference to try and make sense of what the pecking order is in the heartland, and it was a tough one to digest this time around.
But, we're here to give you our opinion whether you agree or not, so off we go with our Big Ten football power rankings after a rather tumultuous Week 2 of the college football season.
14
Nebraska Cornhuskers (1-2)

Sep 10, 2022; Lincoln, Nebraska, USA; Nebraska Cornhuskers head coach Scott Frost (right) smiles while watching a review of a touchdown against the Georgia Southern Eagles during the fourth quarter at Memorial Stadium. Credit: Dylan Widger-USA TODAY Sports
Why the Ranking?
This was most likely a make-or-break year for Scott Frost and after a 1-2 start on the season, one in which it should have been a 3-0 start, things are more broken than a recent college graduates bank account. It could be an interesting week in Lincoln so stay tuned.
| | |
| --- | --- |
| Previous week | Change |
| 13 | -1 |
13
Iowa Hawkeyes (1-1)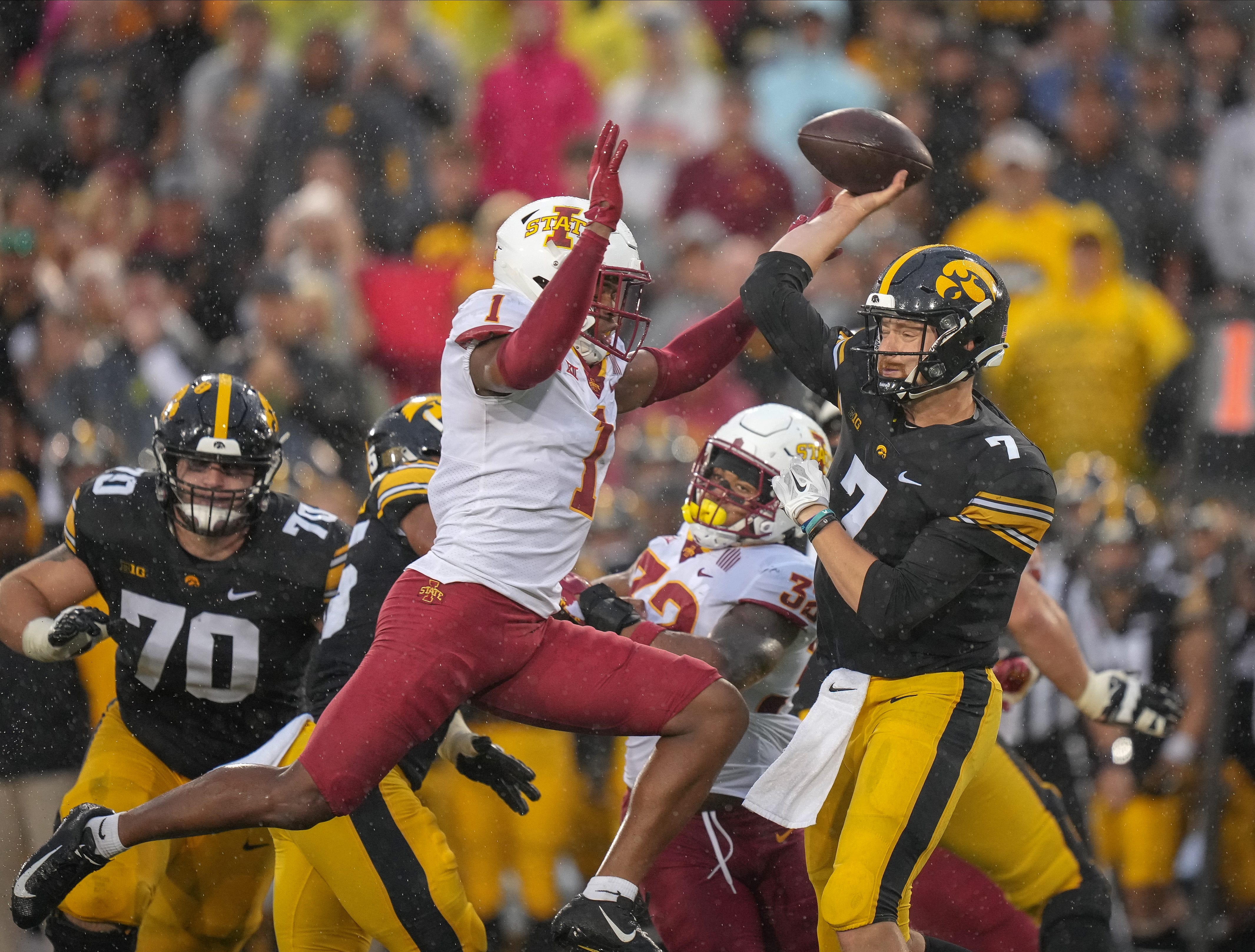 Iowa State safety Anthony Johnson, Jr., breaks up a pass made by Iowa quarterback Spencer Petras during the Cy-Hawk Series football game on Saturday, Sept. 10, 2022, at Kinnick Stadium in Iowa City. Credit: USA TODAY Sports
Why the Ranking?
I honestly don't know if I've ever seen a Power Five offense struggle as much as Iowa has this year. The defense has been great, but there's just no way the Hawkeyes can expect to win too many games if they can't create some offense at some point. Corn comes in many forms in Iowa, but obviously not the explosive variety.
| | |
| --- | --- |
| Previous week | Change |
| 10 | -3 |
12
Northwestern Wildcats (1-1)

Sep 10, 2022; Evanston, Illinois, USA; Northwestern Wildcats head coach Pat Fitzgerald looks on during the first quarter against the Duke Blue Devils at Ryan Field. Credit: Patrick Gorski-USA TODAY Sports
Why the Ranking?
This ranking probably has more to do with how poor Iowa and Nebraska have looked than what the Wildcats have done. After having a…
Click Here to Read the Full Original Article at Basketball | Buckeyes Wire…